Making Connections
PLASTICITYLAB
Understanding Neuromodulation
Memory is a highly complex cognitive function that involves interactions between numerous brain structures, proteins and signalling molecules. Indeed, experience-dependent changes in the strength of synaptic connections between neurons are thought to underlie information storage in the brain. Thus, understanding the highly elastic nature — or the 'plasticity' — of synapses is critical to uncovering how the brain converts our individual experiences into lasting memories. To this end, modulatory neurotransmitter systems play a central role in shaping synaptic processes involved in the encoding and retention of information within neural circuits. A fundamental problem remains, though, in understanding how extrinsic factors recruit, mimic or even hijack these endogenous regulatory signals to affect the development of brain systems critical to cognitive and mnemonic function. The primary focus of my research is in determining how the hippocampus and parahippocampal cortices integrate signals from multiple sensory modalities during the encoding of new memories, as well as in determining how neuromodulatory transmitter systems regulate the synaptic mechanisms required to retain these memories over time. My long-term goal is to understand how environmental factors (e.g., caffeine intake) influence the development of synaptic function critical to cognition and behaviour.
Multidisciplinary Approach
In PlasticityLab, a variety of techniques are used to study synaptic function and synaptic plasticity, including in vitro brain slice electrophysiology, neuropharmacology, optogenetics, confocal imaging, behavioural assays, molecular probes and mouse genetics. These techniques are currently in use to investigate changes in synaptic plasticity and neuronal physiology in the hippocampal formation following manipulations to disrupt neuromodulatory signalling during development.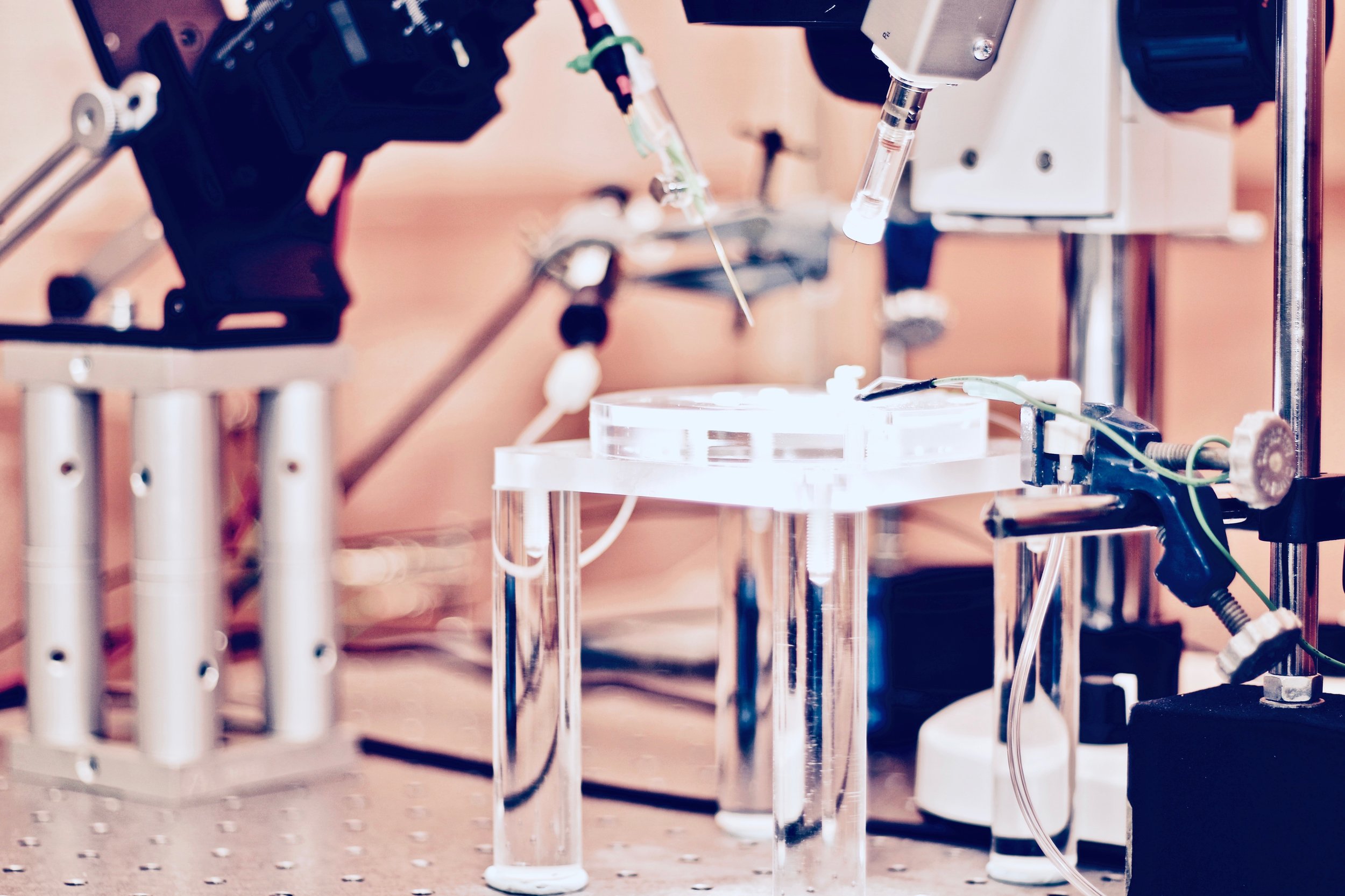 Neuroscience Research @Keele
The Neuroscience Research Group at Keele University brings together scientists from the Faculty of Natural Sciences and the Institute for Science and Technology in Medicine. Research themes cover related basic, translational and clinical areas, as well as the application of innovative approaches to the study of neural disease mechanisms. There are world-class facilities at Keele for electron and confocal microscopy, as well as for developing novel strategies for stem cell therapies and neuroregenerative medicine. This has culminated in high-impact publications, successful collaborations and continued financial support from both UK- and EU-based funding sources. In addition, the School of Life Sciences (where PlasticityLab is based) has received significant investment in the form of a £10 million STEM initiative to construct new research facilities, including laboratories for neuroscience research. As such, PlasticityLab is part of a vibrant and established network of neuroscience research labs at Keele.
Study Neuroscience @Keele
Keele University offers several competitive degree options for our neuroscience course. Choose to take our new single honours programme in neuroscience or our popular major route degree course, or you can pair your neuroscience degree with a second and complimentary discipline in our renowned dual honours programme. Whichever option you choose, though, you'll have the chance to do experimental work in PlasticityLab with me as part of your final year independent research project.
PlasticityLab is Growing...
Things are really taking off in PlasticityLab and we're expanding at an exponential rate! If you would like to be a part of the team then click the link below to view current openings or feel free to contact me directly about employment opportunities, postgraduate training or volunteer experience.